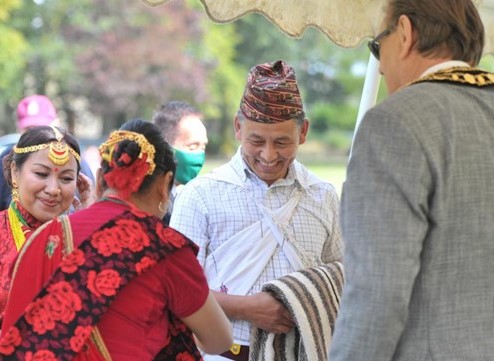 Mr Gurung was a Founder of the Nepalese Association of Wiltshire (NAW) which was established in 2006. A year before (2005), Mr Gurung completed his service with the British Army Brigade of Gurkhas, having served diligently for fifteen years.
His family is from Ghandruk in Nepal, and he values the HANACS as not only a priceless platform for preserving and sharing Nepali and Himalayan arts and culture in the UK and British Isles, and West, but also highlighting the arts in his place of origin in Nepal.
From 2006 until 2019, the thirteen years before Gyan became NAW President, was both a very active NAW member and officer; background to his subsequently standing, successfully for the post of President.
Works by Mr Gurung under his NAW Presidency, for community and broader society support:
Establishing extensive connection to those in broader society in regard to the Swindon & Wiltshire community from local authority & councillors, to Members of Parliament, to charities, has featured prominently in Mr Gurung's work.
Mr Gurung's aspirations referred to above included new major local Swindon & Wiltshire community outward looking actions to support the community AND for strategic and practical actions level outreach to broader society in the area, with civic spirit actions from the NAW to for example in the areas of homeless community support.
Beyond this, also litter gathering, raising £10,000 funds within just three weeks for an NHS Coronavirus support charity (please see particulars in the image above), and many other areas, particularly on celebrating and sharing about Nepali culture with the broader society.
A golden thread running throughout this outstanding work included a 'one community approach,' with in this area a most symbolically important initiative being the NAW tribute in 2021, directed/steered by Mr Gurung in regard to the very sad passing of HRH Prince Philip, The Duke of Edinburgh famous for his own 'one community, one humanity' approach throughout his life.