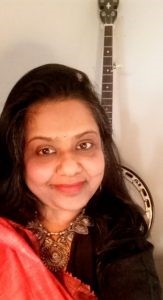 Dr Sanjukta Ghosh joined the HANACS is the HANACS International Arts Advisor
Dr Ghosh is Artistic Director of SOAS' South Asia Institute, and has been involved with partnerships, conceptual planning and production of numerous cultural events that have received national and international media coverage. She is a Commonwealth Scholarship-funded (ACU) doctorate in modern history from SOAS Department of History, Religion and Philosophy where she has been a Senior Teaching Fellow.
Among major research projects, she has worked on the Routledge series on Partition, the ERC project on Infrastructure Development in South Asia, the Heritage Lottery Fund project on the East India Company and recently completed the volume Memory, Identity and the Colonial Encounter — festschrift for Prof Peter Robb (SOAS) that was launched at the Royal Asiatic Society. Dr Sanjukta has been a research grant consultant to network and membership-based organisations in India, UK and Europe. She is a research network member of the European Social Science History Conference, EURHO, a Fellow of South Asia Democratic Forum and a Fellow of the Royal Asiatic Society of Great Britain and Ireland.
In the UK, she is the also the lead coordinator of the Society for the Promotion of Indian classical music among youth (SPICMACAY), General Secretary of Srajan the Spark UK, serves local government multicultural committees and as an invited speaker to faith forums. She has represented SOAS for developing international educational partnerships. Currently, she is involved with the AHRC funded project under the rubric Cultural Heritage, Migration and Indian Diasporas, a BAFTA-nominated South Asian film project, Kalakar Arts UK NED, and is a member of the International Students Mental Health project based from SOAS University of London.