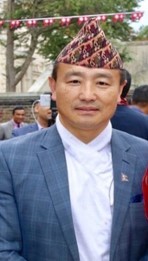 Hiradhan Rai Graduated from Anglia Ruskin University (UK) with an MA in Business Management.  Mr Rai is a respected community leader in the UK Nepali community and Nepal. Mr Rai 5th Degree Black Belt TKD (Tae Kwon Do). And independent businessman with many years' experience and acquired expertise.
Mr Rai has in the UK and Nepal held a key leadership role in the Community and started including Business development, pricing, operational procedure development. Having worked for RojiHira LTD Company as a Managing Director for the last 6 years, Mr Rai has developed the skills necessary to become an immediate asset to any company or business initiative (UK, Nepal, international). Possessing substantial quality man- management skills, Mr Rai can direct, manage and supervise all planning and scheduling activities. Also, Mr Rai can identify issues and opportunities before others and have extensive knowledge of key issues.
Mr Rai always seeks new challenges and additional responsibilities to progress and contribute to the community and possesses a positive attitude and can manage varied workloads and relish the challenges and opportunity of new tasks. A highly experienced, hard-working and multi-skilled individual with a responsible and self-motivated attitude, Mr Rai also extremely fit and holds various qualifications in personal fitness and wellbeing.
With a substantial established background in the different communities with so many years business experience and administration, he is a highly motivated individual with good interpersonal communication, also passionate about personal development and contributes to the community and while making a meaningful difference to the communities.
Some important notable accomplishments:
Helping Gurkhas Veterans Solders UK and Nepal since 1996
British Gurkha Welfare Society (BGWS) founder Member 2002
Kirat Rai Yayokha UK founder member 2003
Greater Rushmoor Nepali Community founder Member 2004
UK-Baksila Health Camp with the Collaboration of Norvic International hospital Chief Co-Ordinator 2014
Transport 10 Sports Wheelchairs Nepal Spinal Cord Injury Sports Association Chief Co-Ordinator 2014
IOFTC (International Open Friendship Tae Kwon – Do Championships) Co-Ordinator 2014
Nepal Earthquake Emergency Distribution Co-Coordinator 2015
England MCC vs Nepal National Cricket Marched Co-Ordinator 2016
Baspani- 5 Dankhuri Dada, School Establish E-Library Co-Ordinator 2018
Community support associations and posts, and business associations and posts:
Shareholder of Gurkha Saving & Credit Cooperation
Shareholder of Global Capital Investment Limited
Former Founder President of RojiHira Foundation.
Managing Director of RojiHira LTD Company
Chief Adviser of UKNFS (UK Nepal Friendship Society): commenced 2020-
Worked with UKNFS (UK Nepal Friendship Society, whose official patron is H.E. the Ambassador of Nepal to the UK) as Special Supportive Advisor 2015 – 2019 in regard to certain key strategic development initiatives supporting Nepal development in trade & tourism
Former Adviser Yeti Nepali Association UK 2017-2019
Former Adviser NRNA UK 2017-2019
Former Adviser UK Nepal Federation Bodybuilding League 2016-2018
Former Vice President of NRNA UK 2015-2017
Former Vice President of NRNA UK 2013-2015
Founder General Secretary of E&W Nepal LTD Company 2001-2008
Former General Manager of the RojiHira Foundation 2012
Military service related accomplishment awards:
Medal for Long Service and Good Conduct
Afghanistan Medal
Kosovo Medal
Queens Golden Jubilee Medal
Queen Diamond Jubilee Medal
Macedonia Medal
Military service locations:
Hong Kong,
Brunei,
The Falklands Islands,
Belize,
Iraq,
Afghanistan,
Kosovo,
Sierra Leone,
Macedonia,
Germany,
France.
Belize.
Korea.
Malaysia.
Belgium.
United Kingdom (U.K).
New Zealand.
Canada.
Cyprus.
United States of America (USA),
Education profile:
AM, Master's Degree in Business administration from Anglia Ruskin University, Studied OTHM Level 7 Diploma in Strategic Management and Leadership (QCF) from Anglia Ruskin University, Studied CMI (Chartered Management Institute) Level 4 Diploma in management and Leadership from The London College. Studied Management Diploma at Farnborough College of Technology. Studied City & Guilds BIIAB Level 2 National Certificate Conflict Management from City & Guilds of London Art School.
Business expertise profile:
With over 25 years' experience leading global teams and self-governing businesses and delivering complex marketing strategies for large national brands, I have the knowledge and skills to grow customers base rapidly and deliver significant growth resells. My expertise spans all aspects of marketing including online, print, social media, and more which has provided me with crucial knowledge on the importance of a holistic multifaceted approach, and ensures I explore all avenues in the pursuit of attracting target market to any organisation. I also have extensive expertise in negotiation and business and community initiatives successful development.