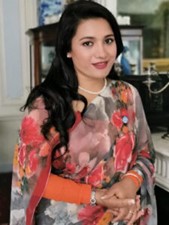 Rojina is the HANACS' UKNFS Chapter Brand Ambassador.  She has always sought new challenges and additional responsibility to progress contribution to community and in regard to her career.  Rojina possesses a positive attitude and have the ability to manage varied workloads and relish the challenge and opportunity of new tasks. She is highly experienced, reliable, hard-working and multi-skilled individual with a responsible and self-motivated attitude to work, and am fit, and well trained.
With a substantial established background in the defence community and administration, Rojina is a highly motivated individual with good interpersonal communication & team working and team leading skills. She is passionate about personal development and how this contributes to community and making a meaningful difference to the world in which we all live.
In tandem with this, developing a successful and challenging career associating myself to work in a reputed organization like the UKNFS that gives scope to update her knowledge and skill in accordance with latest trends and be a part of community that dynamically works towards the growth of the UKNFS.
Rojina states — 'It is both a real honour and a very exciting opportunity to become a Brand Ambassador for the UK Nepal Friendship Society. To this important Society, bringing my skills and vision and values on delivery on behalf of Nepal and the Nepali community here in the UK and worldwide to the dynamic record of delivery of the UKNFS across different areas of important activity and initiative. I am looking forward to contributing to that record of delivery!
Positions held:
Rojina has held and holds positions of responsibility and utilised my interpersonal skills to motivate and develop the community. Always striving to go the extra mile to achieve the set goals Rojina embraces new challenges and additional responsibility to assist in the progress of community.
President of RojiHira Foundation.
Managing director Of RojiHira LTD Company
Vice President of NRNA UK
Vice President of Blind Rocks UK
General Secretary of Kirat Rai Yayokha Tayama Khiyama UK
Former Spokesperson of the Asian Mahila Association (AMA)
Life member of Khotang Sewa Samaj UK
Member of Human Rights UK
Education Background:
Education Masters Degree in Business Administration from Anglia Ruskin University, I studied Management at the University of West London, and also studied Management Farnborough College of Technology. In Nepal Rojina studied Business Management at St. Xavier College Maitghar, Kathmandu, and originally studied at Arunima higher secondary School.