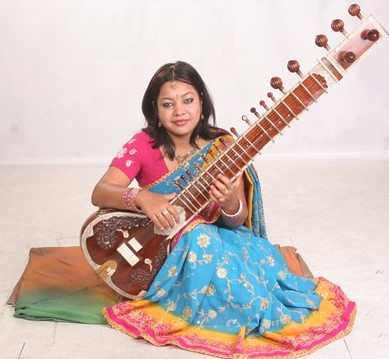 Sita (a HANACS Senior Advisor) was the first born daughter of musician father Krishna Bahadur Rajchal and mother Purna Kesari Rajchal, Sita Maiya was born on Baisakh 2nd, 2034 BS (14th April 1977). At an early age, she was taught by talented musicians at home.  With 14 months of regular harmonium classes, she embarked on her musical journey. She was invited to perform at various events where her audience gave her the title of "The Daughter of Anup Jalauta". This motivated her to pursue her music further so she joined Badri Narayan Tamrakar's Tamrakar Music Training Centre, where she completed her Diploma in formal music.
She had the privilege to learn from Guru Dhan Bahadur Gopali of Kalanidhi Indira Sangeet Mahavidhyalaya and she was later felicitated with a gold medal by then the Queen of Nepal Komal Rajya Laxmi Devi Shah for her outstanding results in Bachelors In Music.
In, 2004, Sita Maiya received a scholarship at Rabindra Bharati University, India, where she had the chance to attend classes under Sayeed Parbej and Guru Deepak Choudhary (student of Pandit Ravi Sankar) and completed her Bachelors in Music in 2007.
After returning back to Nepal, she continued her sitar lessons with Guru Uma Thapa and Dr. Dhrubesh Chandra Regmi.
She was awarded the "Sangeet Praveen" by Kathmandu Center of Prayag Sangit Samit, Allahabadh. And her musical studies concluded with Masters Degree from Lalitkala Campus, Nepal. She is also planning to do her PhD in Music soon.
Although her recording career started in 1994, she only released her 1st album "Parampara – The Tradition", a collection of 8 Nepali Folklores in 2004. She later released "Talking Strings" in 2012 and her 3rd studio album "Journey on Frets" in 2018.
From 2012 to 2018, she had been working as an assistant professor at Lalitkala Fine Arts Campus, Tribhuwan University. Since 2018, she has been working at the Cultural Corporation of Nepal, which is in full ownership of the Government of Nepal.
On, April 7th, 2019 she was awarded and given the title as the "World's First Female Standing Sitar Performer" by World Book of Records, London.
In her own words, "I believe music is not simply a mean of entertainment, it is the power to heal the inner being with this strong belief, I continue preaching to prove the message that music is a therapy to the body, mind and the soul."
She had dedicated her life to add melodies of Sitar to give music a new tone. She has propagated the same message in her albums and she hopes that her music will prompt everyone to do good, strive for world peace, spiritual growth and harmony.
Some videos of Sita Maiya Rajchal performances (please scroll down to see all):